We here at Anago of Western PA are proud to be a member in good standing with the Better Business Bureau.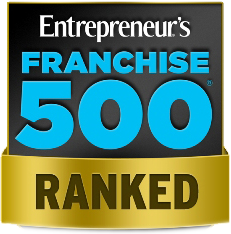 Ranked as the 10th Fastest Growing Franchise, the 7th Low Cost Franchise and the 7th Home-Based Franchise by Entrepreneur magazine in 2013.

Ranked in Inc Magazine's  list of the Fastest Growing Private Companies in America.

As a Franchise Owner you will join the thousands of other Anago Franchise Owners that are currently cleaning some of the best known clients in the nation. Your Anago Regional Office handles most of the administrative tasks associated with a small business, including everything from finding clients, to estimating and setting up cleaning contracts, to billing and collection. You are able to focus on cleaning office buildings, retail stores, manufacturing facilities, and just about any other commercial property.

You will receive both initial and ongoing orientation from your Anago Regional Office. Additionally, you will learn the ins and outs of how to build your business on a solid foundation and avoid the mistakes that isolated entrepreneurs can make. You'll learn local market dynamics from the pros and how to deliver first-class client service, leading to contract renewals and word-of-mouth referrals. You will be able to multiply your time and energy using the Anago system and that will multiply your earnings!

Small Business Opportunity
It is a known fact that 95% of non-franchised new businesses fail while just the opposite is true of franchised ones. Why? Because franchised businesses are based on models that have already been tried and shown to be successful.

One of the best parts of owning an Anago Commercial cleaning franchise is the fact that there is very low overhead. This is an ideal home-based business because you don't need a sales force, a billing department, or an administrative staff – we do it all for you! You can skip the paperwork and the sales calls that burden other types of businesses.

All you need to do to be successful is follow Anago's proven time-tested system. If you can complete the necessary tasks in a timely manner, you can make money and grow your business. Then, you can train others to do the same and you'll grow even faster. There is truly no limit as to how much you can earn from owning your Anago cleaning franchise.
Information Management Made Simple
With Anago, you are a business owner in a growing, recession-resistant business. What makes Anago different is that our simple yet powerful systems allow you to grow as fast as you like – you set the pace. You can actually start this as a part-time venture and grow it into a full-time business that will earn you as much income as you want.

Your business is supported by a team that you can truly rely on. To provide the highest level of support, most of the related administrative work involved in owning a business can be handled for you. These activities range from client acquisition to billing and collections. You will only have to concentrate on satisfying your clients and growing your business!
Coaching and Support
Anago Cleaning Systems stands beside your business every step of the way and will provide you with everything from how to properly train your employees, to on-going business coaching. We will help guide you to success! Using the Anago system, you can grow as big and as fast as you want by acquiring new accounts, business referrals, and providing specialty services; thus, making the growth choices yours to make.
"I started my Anago Franchise in late 2005. I currently have several employees working for me cleaning buildings in Downtown Pittsburgh and surrounding areas. For years I had to rely on someone else to control my paycheck - today I sign the paychecks! With my Anago Cleaning Franchise, I can now control my own future, travel, attend Steelers games, pay for my duaghter's education and enjoy working for myself."
Albert,
Franchise Owner
"When I started my Anago Cleaning Franchise in November 2007, I was working several different jobs trying to make ends meet. Now I employ 8 people including my friends, family and people from my neighborhood and church. My company services serveral schools, offices and other buildings in the Pittsburgh area. With the support of the Anago Regional Office I was able to quit my other jbos and depend on my own business to support my family."
R. Ruiz
Franchise Owner